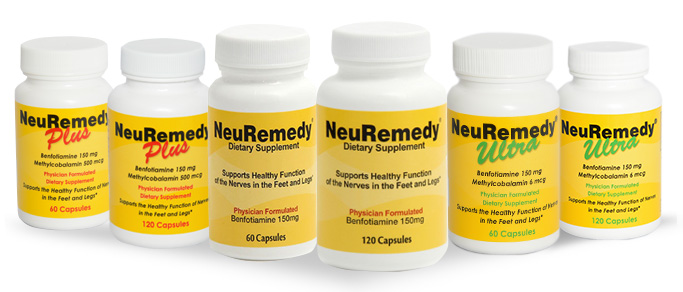 Safety Facts
Developed by a physician, using safe, natural ingredients
NeuRemedy is formulated and manufactured in the United States in an FDA approved GMP facility and supervised by a physician. At every step, we stress quality control and safety.  The key ingredient, benfotiamine, that is in NeuRemedy, has been used worldwide since the early 1960's in supporting healthy nerve function to the feet and legs.* Clinical studies and decades of experience have consistently shown benfotiamine to be safe and effective in supporting nerve health and function.
Important Information
NeuRemedy has no known significant adverse effects and may be safely taken with other medicines, medical foods and vitamins.
NeuRemedy should not be taken by pregnant or lactating women.
NeuRemedy should not be taken by persons under 21 years of age.
NeuRemedy should not be taken by people who are sensitive or allergic to benfotiamine or thiamine.
Find a Doctor Who Dispenses NeuRemedy Near You
Would you like to find a Physician that dispenses NeuRemedy? We can help. Please fill out the form below or Call 1-866-634-2745.