NeuRemedy® Ultra Press Release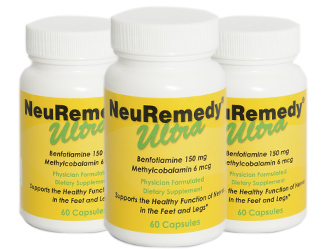 Boca Raton, Florida (March 21, 2018) – Realm Labs, LLC of Boca Raton, Florida (www.realmlabs.net) announced today the nationwide launch of NeuRemedy® Ultra, formulated in direct response to a groundbreaking study recently published in the Journal of Clinical Oncology that found the use of vitamin B6 and B12 from individual supplement sources was associated with increased lung cancer risk among adult men.

The peer-reviewed prospective study – "Long-Term, Supplemental, One-Carbon Metabolism-Related Vitamin B Use in Relation to Lung Cancer Risk in the Vitamins and Lifestyle (VITAL) Cohort" (J Clin Oncol. 2017 Oct 20;35(30):3440-3448) – looked at the association between the 10-year average daily dose of supplements containing vitamins B6, B9 and B12 and lung cancer risk in a cohort of 77,118 participants. The study found that, among men, the use of greater than 20 mg a day of vitamin B6 or greater than 55 mcg a day of vitamin B12 – from individual supplement sources, but not from multivitamins – was associated with an increase in lung cancer risk. The risk was significantly increased in male smokers. No association was found among women.
"These are very significant findings," noted Dr. Richard H. Mann, CEO and Founder of Realm Labs, "and will most certainly impact the way practitioners dispense and prescribe products containing vitamin B6 (pyridoxine, pyridoxamine and pyridoxal) and/or vitamin B12 (cyanocobalamin, methylcobalamin, hydroxocobalamin and adenosylcobalamin) for their patients with peripheral neuropathy and other diseases. All practitioners who use vitamin B6 and/or vitamin B12 in their practices would be well advised to read this important study," recommended Dr. Mann, "and consider incorporating its findings into their treatment protocols."
Realm Labs, in keeping to its commitment to provide products on the cutting edge of the latest scientific findings in the areas of safety and efficacy, has now made available NeuRemedy® Ultra containing 150 mgs of benfotiamine and 6 mcgs of methylcobalamin. The product is formulated with vitamin B12 levels well below those found in the study to be associated with increased lung cancer risk in men. NeuRemedy® Ultra is intended for use in the long-term management of male patients.
For more information about NeuRemedy® Ultra or to discuss this study with Dr. Mann please contact Realm Labs at 866-634-2745.